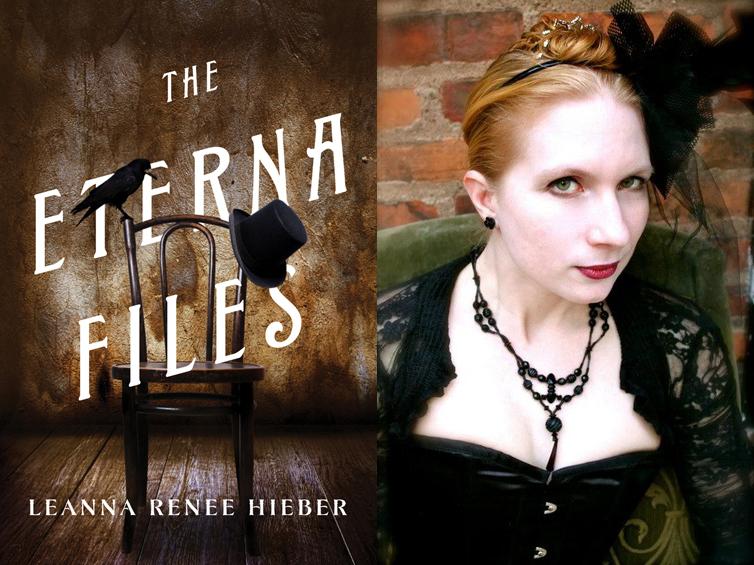 I met Leanna this past year at Phoenix ComicCon (which you should go to because holy tacos, awesome). She is one of the most wonderful people and without further invitation will join you in a game of making up harsh-sounding German words to delight and amaze. Further, she kicks an infinite cabinet of asses when it comes to writing, and so today — on the release date of her newest, The Eterna Files — it makes sense to have her here to guide you poor little penmonkeys toward the light of writing whatever the sweet hot hell you want. And so, without further shenanigans:
* * *
Every genre of fiction seems to think it is the red-headed step-child of fiction. I know this because I've written nearly all of them. I've been shelved on different bookstore shelves despite writing consistently Gothic, Gaslamp Fantasy since my 2009 debut, The Strangely Beautiful Tale of Miss Percy Parker. Every genre has a tendency to snark at other genres. But none so begets the snark as the great GOTHIC NOVEL. *Cue Dramatic musical flourish*
Wikipedia's definition of Gothic Fiction is fair, if not limited as a historic account. (http://en.wikipedia.org/wiki/Gothic_fiction)
When I first read Walpole's The Castle of Otranto, it was liberatory. "You mean I can DO all this CRAZY shit in a book? Enormous helmet of prophecy falling from the heavens to flatten a dude?! Who gets away with this?!" Gothic fiction has all the wild, sweeping abandon that remains the perfect fit for me as a writer, actress, Goth, and Edgar Allan Poe fangirl. While I don't go so far as spear and magic helmet, I've got some capital-D-Dramatic stuff in my work. The Gothic posits the horrific and the beautiful as just a hair's breadth away, entirely coined and mirrored. The shift from gorgeous to grotesque is dizzying and thrilling.
A core problem with the traditional Gothic is that women are, for the most part, mere victims and plot devices with no agency or minds of their own. My mission as a modern woman writing Victorian Gothic is to give my ladies agency; let them be the knight in shining armor and a British Lord can be the damsel in distress (that specifically refers to my DARKER STILL where I pay homage to The Picture of Dorian Gray sans vapid suicidal female). In THE ETERNA FILES, my debut with Tor Books, I add more Mystery and Horror elements into my Gothic Victorian, Gaslamp Fantasy context. I hope my readership will delight in characters from my other series making cameo appearances in ETERNA as I further my ongoing fascination with the Believer and the Skeptic, the precipice of life and death and the possibilities of the human Spirit.
While I might be updating some tropes for our century, bias towards the Gothic is a given. (Even Jane Austen was a hater with Northanger Abbey.) Many of my big-industry reviews go a little like: "it's a fun, well-written Gothic novel, but, you know, Gothic novel and all". I won't defend my own work, but I will defend that the Gothic is a legit genre, love it or hate it, and if you look at what popular fiction we're still reading from the 18th and 19th Century; Gothic, baby. It's hot in TV and film right now too, with Penny Dreadful going into season 2, Guillermo del Toro's new dark Victorian series for Amazon (I can't wait!), with the films Crimson Peak (Oh, Hiddleston, stop – no don't stop — with the hotness) and the announcement of Poe Most Die, and Poe's work has garnered a new musical on Broadway, Nevermore. (I've got a musical too. Srsly, I do: http://strangelybeautifulthemusical.com)
I've a thick skin about the genre not being taken seriously, because I'm not blind to its overreach. But that's why I adore it. Trying to toe that very fine line between tension, intensity and melodrama is a delicious task. I've not always balanced it perfectly but I love the challenge every time, poking and reveling in the genre simultaneously. Healthy doses of self-deprecation go a long way; a survival skill I learned "coming out" as Goth in rural Ohio. (Note: Being "Goth" doesn't preclude "Gothic" novels, I just happen to be/do both.) I was approached on the campus green of Ohio's Miami University in my fishnets, choker and combat boots with: "Hey! You were in our subculture discussion in my English class! Someone was like: 'hey there's that one Goth girl on campus.'" In a school of 16k students I was holding down the one-woman subculture. (But, to clarify, I'm one of the old school Perky Goths, ok, so you Emo kids can go take a hike while I burn down the Hot Topic).
All this to say, You Be You. You Write You. It is said in Ye Olde Hallowed Annals of Writerly Bull that Thou Shalt Write The Book of Thy Heart. Truly. Do. Because life as a professional artist is HARD. You have to delight in what you're writing and slaving away over because there are moments when that's all you have. Take your craft deadly seriously, but not yourself, and not necessarily your genre. Wink at it, have a total blast, revel and wallow, and be only as indulgent as your editor allows. Try to be objective, and don't be hurt if people think your cup of tea tastes like poo. With any luck, passion, love and creativity will shine through. For my part, I can only hope the wild expanse of whatever foggy moor I'm frolicking in will bring loyal readers, who don't mind the eerie abandon, back time and again to my dark and stormy night.
Oh, hey, and please buy a copy of THE ETERNA FILES. It's pretty important to my career. I have lots of swooning and flailing and running out into rainstorms to do and I can't do it without your help.
You can get a fancy, signed, personalized copy of ETERNA and ALSO support an amazing local indie bookstore that does a lot for its community, WORD in Brooklyn: http://tinyurl.com/eternawd (Please put any personalization requests in the "comments" section).
Cheers, thanks Chuck and Terrible Minds for the space to Goth out, and Happy Haunting!
* * *
Leanna Renee Hieber: Website | Twitter | Facebook
The Eterna Files: WORD | Amazon | B&N | Indiebound