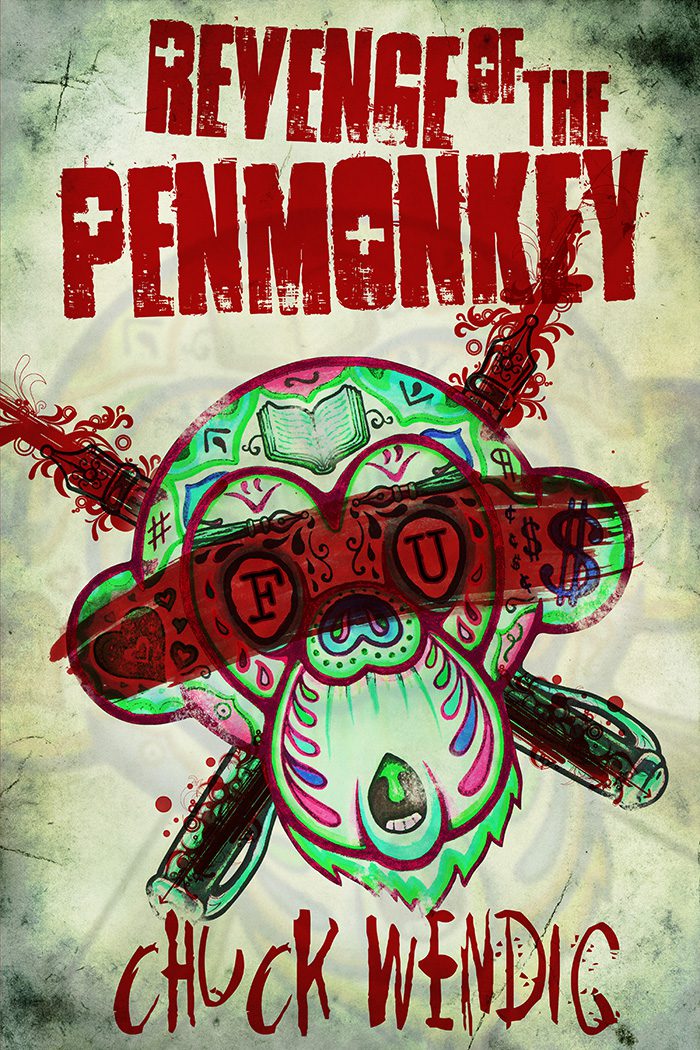 Kindle (US): Buy Here
Kindle (UK): Buy Here
Nook: Buy Here
Or buy direct:
What's In The Book?
"If it weren't for Chuck Wendig's advice, I'd have fallen off the writing map long ago. This is the book you want stapled to your chest when you march into the battle of authorship!" – Karina Cooper, author of BLOOD OF THE WICKED
"Chuck Wendig hammers out writing and career advice that's always brave, profane, creative, clever, and honest. And don't forget hilarious. You'll never laugh so hard learning so much." – Matt Forbeck, game designer and author of AMORTALS and VEGAS KNIGHTS.
It's time once more for a grim and greasy descent into the penmonkey's world as Chuck Wendig offers up a gonzo NSFW look at what life is like as a writer.
REVENGE OF THE PENMONKEY takes writers through their paces and karate-chops them in the trachea with a no-holds-barred drill sergeant approach to a writing career. Wendig — equal parts novelist, game designer, screenwriter and all-around freelance penmonkey – gives a candid and hilarious look at what it takes to survive as a modern day inkslinger.
Features 30 essays such as:
"How To Tell If You're A Writer"
"How To Jumpstart A Stalled Novel"
"Panster Versus Plotter"
"Six Signs You're Not Ready To Be A Professional Writer"
"Why Writers Drink"
"Word-Karate: On Writing Action Scenes"
"Writers Should Be Motherf**king Rock Stars"
Also features the Second Writer's Prayer ("The Inkslinger's Invocation"), a 10,000-word "memoir" called "True Confessions Of A Freelance Penmonkey" and 20+ questions with Chuck Wendig.
Be advised: This is not a book for writers with weak constitutions or delicate hearts. If you blanch, balk and stammer at bad words and spluttering invective, this is not the book for you. If you are averse to a camping hatchet forged from the metals of unrefined honesty cleaving your face and brain in twain, then once again, this is not the book for you. If you want your hand held? Forget this book. If you want touchy-feely-tickly empowerment? Forget this book. If you find that satire gives you hemmorhoids? Forget this book.
Are you ready to go big and go bold? Are you ready to bleed on the page for your work? Then gaze into the unblinking eye of REVENGE OF THE PENMONKEY, a book of humorous writer-focused essays and articles of booze-soaked, profanity-brined writing advice.
Free Wallpapers
(The Penmonkey sigil by Amy Houser. Cover and wallpaper design by yours truly.)
WRITE BIG AND WRITE BOLD
DONE FUCKING AROUND
F.U.
Revenge of the Penmonkey
Categories →
Writing Books