Life Debt: Out Now!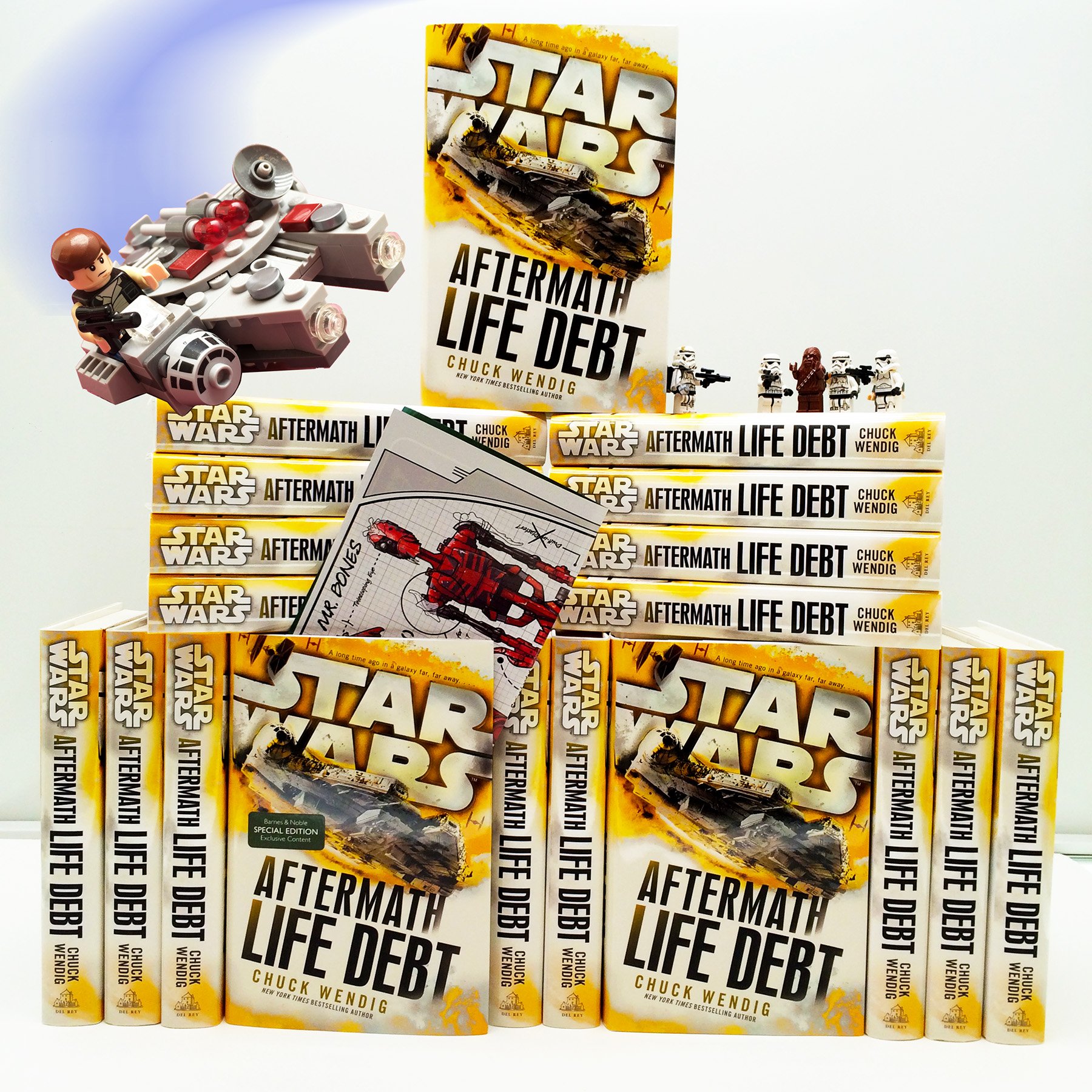 PSST.
You.
Yeah, you.
Put down your Pokemon-abduction game for a moment.
Guess what?
LIFE DEBT IS OUT NOW.
Or, the more proper title: Star Wars: Aftermath: Life Debt: The Gang Hunts Imperials: Han & Leia's Excellent Adventure: Jar-Jar's Erotic Awakening 2, Gungan Bombadaloo.
You can procure it anywhere where books exist. That includes your favorite indie bookstore, or Amazon, or B&N, or that shady guy who lives in the wizard van down by the docks.
I think it's a good book. Other people seem to like it.
The Collider Jedi Council did a smashing review video.
Sci-Fi Now gives it four out of five stars.
Tosche Station team gives it a GO review (no spoilers).
Blabba the Hutt gives a pretty spoilery positive review.
You can also check out some excerpts —
Maz Kanata excerpt at USA Today.
Hope you check it out and hope you like it. If you do like it, I'd surely appreciate a positive review somewhere. If you don't like it — well, ha ha, ahh, I expect to be hearing from you folks one way or another. *winky shrug emoji*
11 comments
Sorry, but my son just won't let me put down the Pokemon thingy. Did Jar Jar really get an erotic awakening? I'll have to wait on all those stars, but my copy of the last book of Heartland Trilogy arrived, so… I'm happy!

Sounds ace. The best of luck with it. 🙂

Downloading from Audible.com right now! Going for extra long walks with the dog next few days. And when is the 3rd coming out?

Chuck you once again have made my day – Pokemon abduction game – brilliant!

Congratulations, Chuck!!! I hope it does smashingly well.

Really want to read this, looks like it's gonna be even better than the first! Sadly my library hasn't gotten int yet 🙁
Might end up buying a copy this weekend even though I have almost no shelf space..

Congratulations on the release! I hope its reception exceeds your wildest expectations.

Our review went live yesterday, and personally typing, I can't wait to read Life Debt a second time. After Celebration Europe, of course. Review at: http://sw7x7.com/episode-739-aftermath-life-debt-review/. We're covering it for most the week, in fact…

Just picked this up during my lunch hour – can't wait to get home and start reading!!

Bugger it – the boss isn't around I'll just take a peek…..

You made me go back to my Harry Potter days when I could not wait to read the whole book ASAP! This one went on a day! Definitely a must read!

I do not play that Pokemon Go! It's catching up really fast like the Flappy Bird.